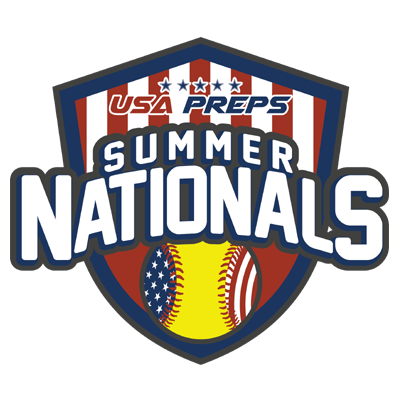 Easton Summer Nationals Tournament
DURING THE TOURNAMENT, COLLEGE COACHES WILL BE PRESENT AND HAVE THE OPPORTUNITY TO WATCH YOUR GAMES IF THEY CHOOSE, BUT WILL NOT BE ABLE TO GIVE INSTRUCTION TO YOUR PLAYERS!

Dates/Location:

July 17- 21, 2024,

Palmdale/Lancaster, CA
Age Groups:

14U, 16U, & 18U


Event Format:

4 Pool Play Games, Single Elimination Bracket (Blind Draw)


Pool Play 1:30 drop dead / Bracket play 1:30 no new inning
Championship Games 7 Innings
This is a Pay at the Plate Event: Each team is responsible for paying umpires $60 at the beginning of each game, up to (5) games. If more than (5) games are played, USA Preps will pay for those games.

SCHEDULE OF EVENTS (Times are subject to change)
Friday (Pool Play Games)
Saturday (Pool Play Games) - (Bracket Games)
Sunday (Continue Bracket Games) - (Championship Games)

ADDITIONAL INFORMATION
Gate Fee Information: $10 for the entire weekend. Club Coaches (3 per team),
Kids 12 and younger, Senior Citizens, and Military are FREE.
Event Awards:

1st and 2nd place

in each bracket will receive individual and team awards.
Age Cutoff Date: 12/31/2022
Game Times: WILL BE POSTED NO LATER THAN THE WEDNESDAY BEFORE THE EVENT.
Make Checks to: USA Preps 5021 Verdugo Way #339, Camarillo, CA 93012

ADDITIONAL QUESTIONS?
Contact: Mike West
Call: 805-377-6435 Email: mike@usapreps.com
Contact: Mike Crowder
Phone: 702-720-0227 Email: crowder@usapreps.com