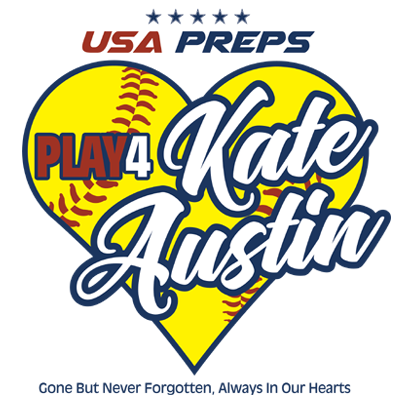 11th Annual Kate Austin Memorial Tournament
Dates/Location:

June 7 - 9, 2024,

Richland/Pasco, WA
Age Groups:

14U, 16U, & 18U


Event Format:

5 Game Guarantee with College Coaches present throughout each day.


All games 1:30 drop dead.
This is a Pay at the Plate Event
Please Note: Graduating Seniors attending this event are eligible for the Kate Austin Scholarship Award. USA Preps, the Washington Angels, and the Austin Family have been able to donate over $17,000 to deserving student-athletes.
Graduating Seniors should send a short essay (500-750 words) to wangels96@gmail.com explaining their love for the game, any outstanding community achievements, and other information they'd like to include. The essays are due by the Wednesday prior to the tournament. Scholarship recipients need to be present for the Scholarship Ceremony taking place at the event.
The ceremony will take place at Columbia Playfields, field 1 (the last field Kate played on) between 1:15 PM and 1:30 PM (Sunday).. Drew and Cindi Austin will determine and present the winners.
For more info on Kate Austin please CLICK HERE to view the Kate Austin Memorial Page.

SCHEDULE OF EVENTS (Times are subject to change)
SATURDAY (Instructional Games)
SUNDAY (Instructional Games and Kate Austin Scholarship Ceremony)

ADDITIONAL INFORMATION
Gate Fee Information: A $10 gate fee will be enforced at the TRAC and Horn Rapids complexes only but will cover all locations for the entire weekend. Club Coaches (3 per team),
Kids 17 and younger, Senior Citizens, and Military are FREE.
Event Awards:

Teams that finish in the top 25% of their age group will receive an invitation to the USA Preps 2023 West Coast World Series.




*If you qualify at this event for the 2023 West Coast World Series, 50% of your roster must remain the same when participating at the event
Age Cutoff Date: 12/31/2023
Game Times: WILL BE POSTED NO LATER THAN THE WEDNESDAY BEFORE THE EVENT.
Make Checks to: USA Preps 5021 Verdugo Way #339, Camarillo, CA 93012

ADDITIONAL QUESTIONS?
Contact: Mike West
Call: 805-377-6435 Email: mike@usapreps.com
Contact: Mike Crowder
Phone: 702-720-0227 Email: crowder@usapreps.com